Seoul Semiconductor has announced that it won a German patent infringement action against distributor Mouser Electronics focused on the sale of mid-power LEDs from Everlight Electronics, and Seoul also filed a new German intellectual property (IP) action against Conrad Electronic focused on LEDs for flashlight and mobile applications. Tridonic has announced Hedwig Maes as the company's new CEO succeeding Guido van Tartwijk. Acuity has announced Richard Reece as its new president and shifted additional executive responsibilities.
Seoul patent win
The Seoul action unertaken against Mouser is another example of LED manufacturers pursuing resellers of infringing products when satisfactory IP enforcement could not be achieved against the LED manufacturer — in this case, Everlight Electronics. In a related action settled earlier this year,
Seoul won agreement from Mouser to stop selling the same LEDs in the Japanese market
.
The LEDs in question are 2835 (2.8×3.5-mm) mid-power LEDs that Seoul says infringe a Multi-Wavelength Insulation Reflector technology developed and patented by Seoul. Essentially, the technology improves light extraction for higher output power or lumens and boosts reliability. Seoul said the technology represents a major innovation in the step from first to second-generation mid-power LEDs in which efficacy increased from 70–80 lm/W to over 150 lm/W.
The Düsseldorf, Germany District Court has banned sales of the infringing LEDs. Moreover, the court has ordered a recall of the infringing LEDs going back to February 2017. The LEDs have been used in lighting, backlight, mobile, and automotive applications.
Meanwhile, the other newly-filed suit in Germany against Conrad involves a similar argument claiming infringing usage of second-generation LEDs, but in this case it is for flashlight and mobile-phone flash applications. Seoul did not name Everlight in the Conrad suit, but the IP action did say it involved a top-ten global LED manufacturer.
New Tridonic CEO
Moving to Tridonic and the CEO position, van Tartwijk swept into and out of the position rather quickly yet led some high-profile Tridonic initiatives. For example, we published an interview just after van Tartwijk took over as CEO in 2017, covering his plans to move into the North American market and to push connected lighting and Internet of Things (IoT) technologies. Tridonic has insisted that it was van Tartwijk's decision to leave the position late last year.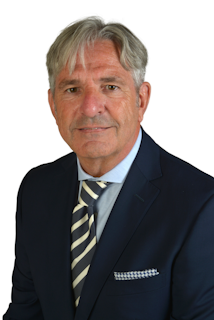 Hedwig Maes joins Tridonic as chief executive officer. (Photo credit: Image courtesy of Zumtobel Group.)
Maes was most recently the vice president of global systems & solutions at Rockwell Automation for ten years. That background would certainly imply broad understanding of the connected and smart buildings trends. He will report to Zumtobel Group CEO Alfred Felder.
"We are very pleased to have won Hedwig Maes, a manager with international experience and extensive knowledge of strategic orientation in the product and system business, for the management of our components business," says Alfred Felder, CEO Zumtobel Group. "I am convinced that with Hedwig Maes, CFO Thomas Erath, and COO Alexander Jankovsky, we now have an excellent management team to lead Tridonic into the future."
Acuity executive moves
At Acuity Brands, recent executive moves were related to promotions and shifting of responsibilities. Richard Reece is now president of Acuity after having served as executive vice president and chief financial officer (CFO). He will run commercial operations and lead product creation activities.
Karen Holcom has stepped up to the role of senior vice president and CFO. Former executive vice president of Acuity Brands and president of Acuity Technology Group Laurent Vernerey will transition into a strategic business development role — a move Acuity said he requested.
"I am excited to announce the promotions of Ricky and Karen who continue to leverage their leadership capabilities, enthusiasm, dedication, and desire to improve our great company," said Vernon Hagel, Acuity chairman and CEO. "Additionally, I am pleased that we will continue to benefit from Laurent's extensive experience and global business acumen in his new role as strategic business development executive. I believe that these management changes will allow Karen, Ricky, and Laurent to continue to play key roles in the future success of the company."