T series track light adopts the latest technology of cold forging. The lamp body is made of #1070 aluminium ingot by one time forming without secondary process like splicing, riveting and soldering. The cooling effect of radiator is completely same as that of raw aluminum material with good heat dissipation, and there's only 3 steps to make an aluminium ingot turn into a lamp:

1. Put an aluminium ingot into hydropress, getting a primary lamp housing.

2. Lathe the lamp housing, getting a delicate lamp body.

3. Assemble the lamp body with other parts.
The excellent heat conductivity determines lamp quality, combined with high performance light source, we can control our lamp's light decay <10% within 30000hrs, <20% within 50000hrs. By our test, the cooling effect of cold forging aluminium is 30% higher than that of same size of #6063 profile aluminium and double better than die casting aluminium.
The Thermal conductivity of different aluminum material:
Cold forging aluminium (#1070): 226.w/m.k
Profile aluminum (#6063): 180.w/m.k
Die casting aluminium (#ADC12): 98.w/m.k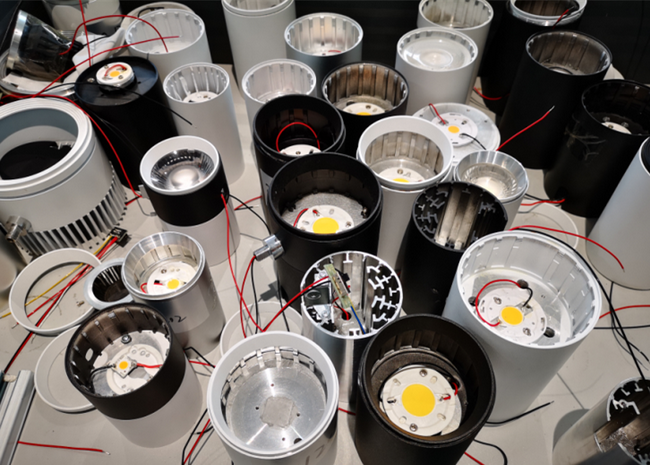 LED with ceramic substrate
Self-design ATCOB COB LED with Epistar chip, ceramic PCB against pure gold thread, which has features of high light efficiency, high CRI, high stability, low light decay, low SDCM, etc.
The most representative feature of ATCOB COB LED: 150lm/W under CRI>90, R9>50 & 3000K, and the highest CRI can be CRI>97. Also, even if half of the chips don't work, just less than 20% reduction in luminous efficiency.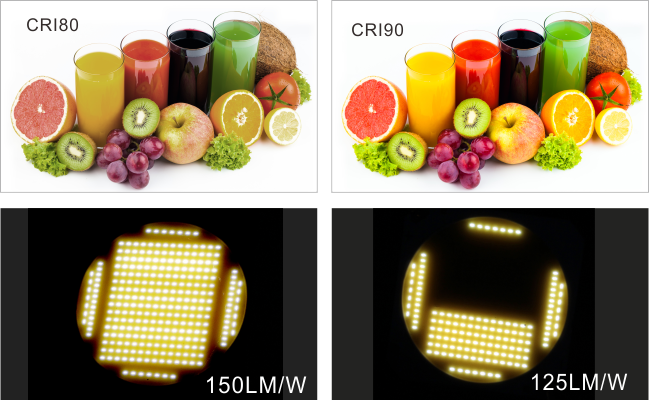 Free soldering
Free soldering design (including LED, driver, connector, etc), which is convenient for assembly and customer can change any parts easily and quickly.

Special requirement design
Support lighting for food like meat, vegetables and bread, making the food more charming.
The specialized LED+Reflector of lamps for food display can highlight the freshness of food with the most appropriate lighting color, so that the food color under our lighting is closer to or even better than the real color itself. For example, baked food looks more crispy with the golden brown light, and meat looks more bright red with the pink light.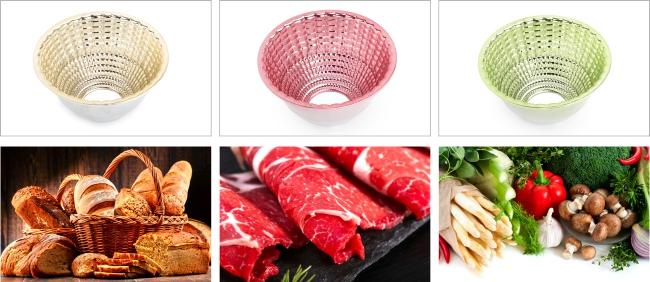 Available track holder: 2 wires 1 circuit, 3 wires 1 circuit and 4 wires 3 circuits.

Support Triac, 1-10V, Dali, DMX, 2.4G dimming
Perfectly compatible with almost all famous light sources &drivers: Philips, CREE, CITIZEN, Tridonic, Osram, Lifud, Eaglerise, Meanwell, etc.

Power 7-12W can be CCT adjustable from 2000K to 2800K by Triac dimmable.
Power 20-50W can be CCT adjustable from 2700K to 5700K



CCT dimmable

Support 3 different colour temperature via dip switch, total power remains the same




Beam angle choose function

Support 3 different beam angle via dip switch, total power remains the same




Support zoomable and shapable form

Using latest LED focusing and shaping technology, customer can change freely the light spot shape, size, sharpness,etc.




By this technology, it can replace traditonal advertising lighting box(with backlight) , achieve a more precisely and smoothly light effect, very suitable solution for gallary, museum, restaurant, hotel,etc.




Support zoomable form

Now at the market most zommable track lights will loss 50-70% brightness. (for example, a common 30W track light with 3000lm at beam angle 60°, it might only 1000lm at beam angle 10°)




Our new technology can assure the zoomable track light only loss < 10% brightness when adjusting the beam angle.
T series LED track light photos